Case study: Rachel's story
Rachel Martin has been working as a professional Digital Champion for Citizens Online since the July 2017, working 18 hours a week – as well as 14 hours a week for the Gwynedd Council Libraries service. She spends most of her time as a Digital Champion in a Library in Blaneau Ffestiniog, or in a café where she set up a regular session after learning they had free WiFi, and talking to the owner who turned out to be very keen.
"People don't want to help in any old place – we've tried in a Costa but people didn't want it there. It needs to be the right kind of place… It's fair to say that when you work as a professional digital champion you get a better sense of how to help people and have more time to do so."
Rachel enjoys working in the Lakeside café; she says often in the library people come with more basic issues related to their devices, and the café is a more relaxed environment for everyone to learn. Rachel may help around eight people in a morning with simple queries and perhaps give more intensive training to two or three people.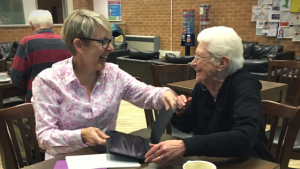 Rachel supports a wide range of people, from young to old, who are facing a variety of digital skills challenges.
Find out more about Rachel's experience as a Digital Champion here.
---
One Digital is a UK wide partnership which promotes the use of Digital Champions to support people to learn digital skills. For organisations interested in setting up their own digital inclusion project we have developed a free Knowledge Hub of useful information and resources.