Digital Unite evaluation reports
Digital Unite is one of the UK's leading providers of digital skills learning, focusing exclusively on vocational training and support for Digital Champions. This is offered through the Digital Champions Network, which is a web-based platform that trains, supports and provides resources for Digital Champions and digital inclusion projects.
As part of One Digital, Digital Unite offered individuals and organisations Lottery-funded membership of the Digital Champions Network (DCN).
Year 1 – Highlights (June 2017- May 2018)
Digital Unite met targets for the number of Digital Champions recruited and unique end learners. Digital Unite also relaunched their Digital Champions Network (DCN) to improve the Digital Champion experience. This included but was not limited to improving the Digital Champion pathway for a more personalised experience, formal accreditation of the training courses, extending the resources and teaching tools, the introduction of the DCN as a web application and an improvement to the way Digital Champions record their learner activity. This resulted in a much more dynamic and extended platform used effectively by hundreds of organisations within the One Digital programme. Year 1 saw the introduction of 119 organisations to the DCN through One Digital funding, including many grassroots organisations that would otherwise not be able to access it. Through One Digital funding, Digital Unite were able to unlock delivery support previously inaccessible but much needed by grass root organisations which was hugely gratifying.
Year 2 – Highlights (June 2017- May 2018)
Digital Unite continued to evolve the Digital Champions Network (DCN) and welcomed 53 frontline organisations from across the UK from a variety of sectors. These include housing associations such as Progress Housing and Nottingham City Homes, local authorities including West Lothian Council and Southampton City Council and charities such as Pursuing Independent Paths and Newcastleton District and Community Trust. By the end of Year 2 the One Digital "Digital Champions" had recorded 7,293 learners on the Network and had collectively used 373,433 training resources. New and updated content was developed to support all projects and members across One Digital including:
New guides for councillors developed in partnership with the London Borough of Waltham Forest.
Updated resources for young Digital Champions, developed in partnership with the National Citizen Service.
A collection of new CPD accredited courses for Project Managers.
Over 65 new and updated how-to guides.
A redesigned, relaunched 'Resources Hub' with new teaching resources added across more than 10 new topic areas, mainly focusing on supporting Workplace Digital Champions.
Digital Unite (DU) received a Bronze award in the "Innovation in Learning" category at the prestigious Learning Awards event in February 2019 for their outstanding work on the Digital Champion Network.
Year 3 – Highlights (June 2019 – May 2020)
Digital Unite extended their knowledge of digital skills in new sectors through two discovery projects with NHS Digital and Mencap. They released new CPD accredited training for project managers responsible for delivering Digital Champion projects and extended knowledge of digital skills support into new sectors, such as health and learning disabilities. For example, their new training for Digital Health Champions was developed in partnership with NHS Digital, the CPD-accredited e-learning and resources help staff and volunteers support patients with managing their health online. Digital Unite also announced a partnership with Capgemini, developing a new programme to boost existing Digital Champion projects. This included an online diagnostic, face to face training and mentoring.
As part of the One Digital funding, Digital Unite provided free DCN access to 80 independent Digital Champions (those not affiliated to any organisation) who in turn provided digital support to over 1,000 learners. Digital Unite also joined forces with Citizens Online in a new member offer which combined membership of the Digital Champions Network and Citizen's Online Switch approach. Furthermore, Digital Unite welcomed one of the largest housing providers in the UK to the programme and delivered a successful Digital Champion awards ceremony in partnership with Clarion.
During the final quarter, Digital Unite's Covid-19 response included:
Creating and promoting four new how-to guides on how to help people as Remote Digital Champions. These were made available to the One Digital partnership and beyond.
Pulling together ninety of their most relevant digital how-to guides in one easy to use web page. These were grouped under two themes: health and wellbeing and staying connected. Organisations could also upload them to their own websites.
Encouraging new people to become Digital Champions to help those during lockdown by offering free membership of our Digital Champions Network.
Teaming up with Citizens Online, as part of their webinar programme covering remote Digital Championing and fielding one of their Digital Champions to speak on safeguarding.
Independent evaluation
The impact study below shows that the DCN helps organisations to get digital inclusion started and provides them with the framework they need to drive forward digital skills programmes. This impact study was an independent 2-year evaluation by Sara Dunn Associates.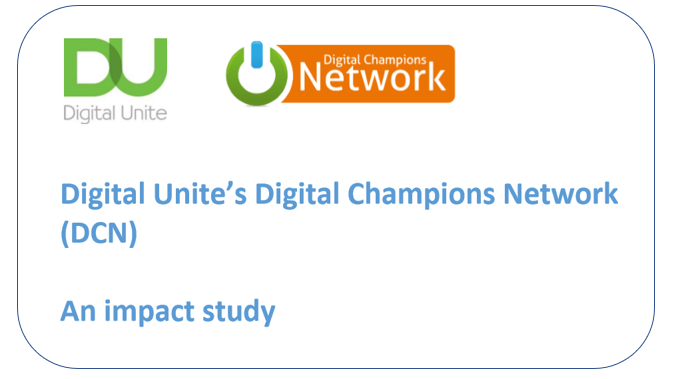 You can also read articles about the key findings of the impact study