Citizens Online evaluation reports
Citizens Online's digital inclusion programme "Switch" uses detailed evidence, combined with establishing strong, local partnerships for a sustainable approach.
Phase 2 – June 2017 to May 2020
As part of One Digital the "Switch" programme took place in Brighton & Hove, Dorset, Epping Forest, Gwynedd, Kent and Surrey.
Evaluation and impact report for Brighton & Hove
The evaluation and impact report for Brighton & Hove was published in July 2019. This report highlights the key statistics, achievements and challenges from the two year project, which ran from June 2017 to May 2019 .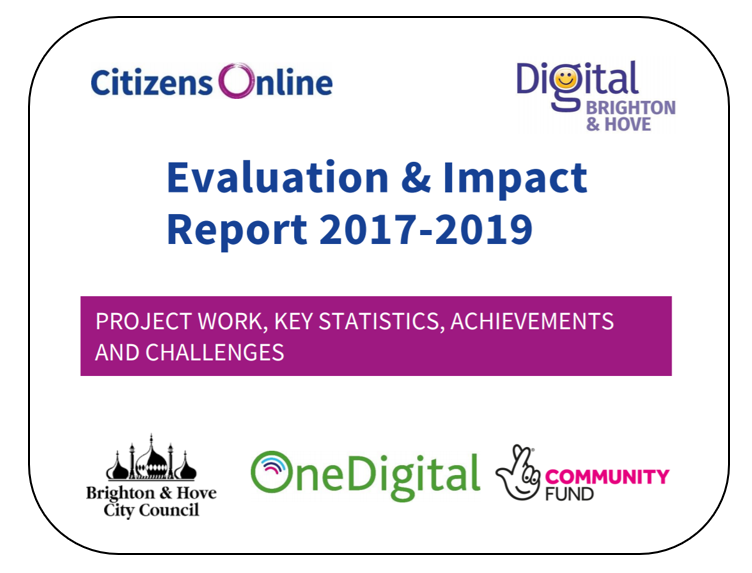 Year 1 – Highlights (June 2017- May 2018)
Citizens Online ended Year 1 having achieved 97% of the Digital Champion recruitment target, 99% of the Organisations Engaged target, and 117% of the End Learners target. Deep Dive projects provided valuable case studies of impact on both organisational involvement and end learners. Citizens Online also extended the network of organisations involved in their project. Brighton was particularly successful at recruiting new organisations to the cause (180+), using a consistent marketing campaign targeted at the public and third sector networks in the city, with regular messaging going out on Facebook, Twitter, Instagram and a growing circulation list managed on Mailchimp in excess of 800 email addresses. In both Deep Dive project areas, quarterly Digital Inclusion Network meetings provided a discussion and engagement platform for local organisations and quarterly Steering Groups managed the decision making, resource targeting and strategic planning for the projects. Switch projects were slower to get started than expected. By the end of Year 1 three Switch projects in two locations had been initiated (one location counted as two projects due to scale).
Year 2 – Highlights (June 2017- May 2018)
Switch projects and Deep Dive projects delivered by Citizens Online saw considerable involvement from external partners. This resulted in Citizen's Online significantly exceeding the Unique End Learners (UELs) target. By the end of Year 2 Citizen's Online had reached a total of 9,594 end learners or 97% of the One Digital total. The email newsletter for the project had a mailing list of 1000 addresses and their quarterly Digital Inclusion Network meetings were well attended and highly successful events. The decision making, resource targeting and strategic planning for the projects continued to be managed at quarterly Steering Groups which proved manageable and fruitful.
Year 3 – Highlights (June 2019 – May 2020)
At the end of Year 3, the Digital Brighton & Hove project continues to run – this has not had any funding from One Digital allocated to it directly since May 2019 and has become an entirely self-sustaining 'Deep Dive' project fully funded by local partners with Brighton & Hove City Council taking the lead. This evidence of project legacy and sustainability is a great success of the Citizens Online model.
During the final quarter, Citizens Online supported their One Digital projects through the COVID-19 pandemic and the restrictions with lockdown. They supported organisations with the digital mapping of excluded communities with specific consideration of COVID-19 risks, and with practical help to ensure Digital Champion activity could be provided remotely and that services could access digital equipment and coordinate volunteer resources.
Further COVID-19 responses included:
Final project evaluation report
The final project evaluation report covers Citizens Online's delivery of One Digital for the whole of Phase 2, between June 2017 and May 2020. It seeks to assess whether the targets and intended outcomes were achieved, and what the impacts were of different elements of our work, across a range of projects delivered in different locations across England and Wales.