Independent Programme Evaluation Reports
One Digital was a collaborative digital inclusion programme which ran from December 2015 to July 2020, recruiting and training Digital Champions and delivering projects to help people benefit from being online. The test and learn phase ran from December 2015 to December 2016, and the delivery phase ran from June 2017 to May 2020.
The One Digital programme was developed by Age UK, Citizens Online, Clarion Futures (part of Clarion Housing Group), Digital Unite and the Scottish Council of Voluntary Organisations (SCVO). The One Digital programme and collaborative partnership was independently evaluated by Sara Dunn Associates, whose research reports are below.
Evaluation – phase one 2015-16
The 'test and learn' phase of One digital was designed to assess the suitability of using skilled and trained Digital Champions on a large scale to help people get online and develop their digital skills. The project was a huge success recruiting 1,179 Digital Champions and supporting over 11,000 individuals to improve their essential digital skills. Read the executive summary of the evaluation.
If you would like a copy of the full report please get in touch.
---
Evaluation – phase two 2017-2020
Case Study research on the embedded approach to working with Digital Champions
This first research report uses four diverse Case Studies to better understand what factors contribute to successful Digital Champion projects, and in particular what contributes to the 'embedding' of essential digital skills support into an organisation's service delivery. The participating Case Study partners were Age UK South Lakeland, Airdrie Citizens Advice Bureau, Brighton & Hove Library Service and Poplar Harca (a social housing provider).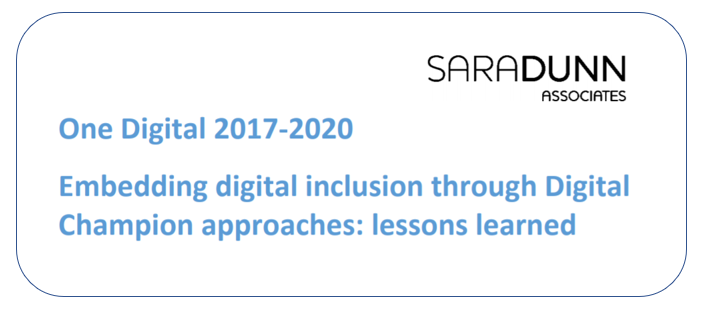 Evaluation of One Digital partnership – Learning and Influencing
A key component of the One Digital partnership was the opportunity for the organisations involved to share learning amongst themselves and with other organisations in the sector. Being able to pool resources, expertise and insight as a group meant that knowledge could be collated and disseminated in a way that would not have been possible for organisations working separately.  The partners commissioned an evaluation of their knowledge dissemination and influencing activities, and this report, undertaken by Sara Dunn Associates (an independent evaluator) presents the findings.