Clarion Futures evaluation reports
Clarion Futures (part of Clarion Housing Group) funded and built partnerships with 15 other organisations who developed and embedded effective Digital Champion models of support.
The progress reports below
recognise, celebrate and share learning from the partnership and subsequent delivery
highlight the successes and challenges which form an integral part of this work
give unique insights about the target group served, based upon the data captured by their digital screening tool
This first progress report was published in March 2019 and includes spotlight sections on two specific partners' projects Hexagon and Charlton Triangle Homes, both part of the Love London Working partnership.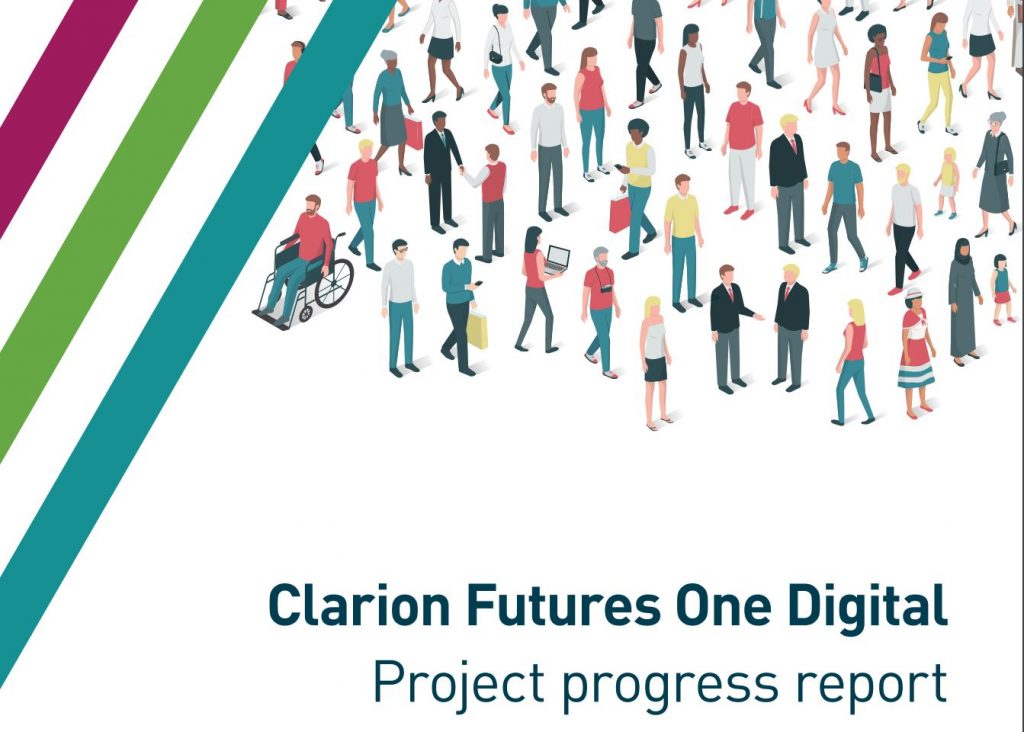 This second report was published in July 2019 and includes spotlight sections on three specific partners' projects Poplar Harca, Action West London and Torus Foundation, which show:
Creating sustainable and rewarding digital volunteer models
Strategic positioning of Digital Champions coupled with creative techniques to promote digital skills support with language learning
The importance of strategic partnerships and collaborative working
---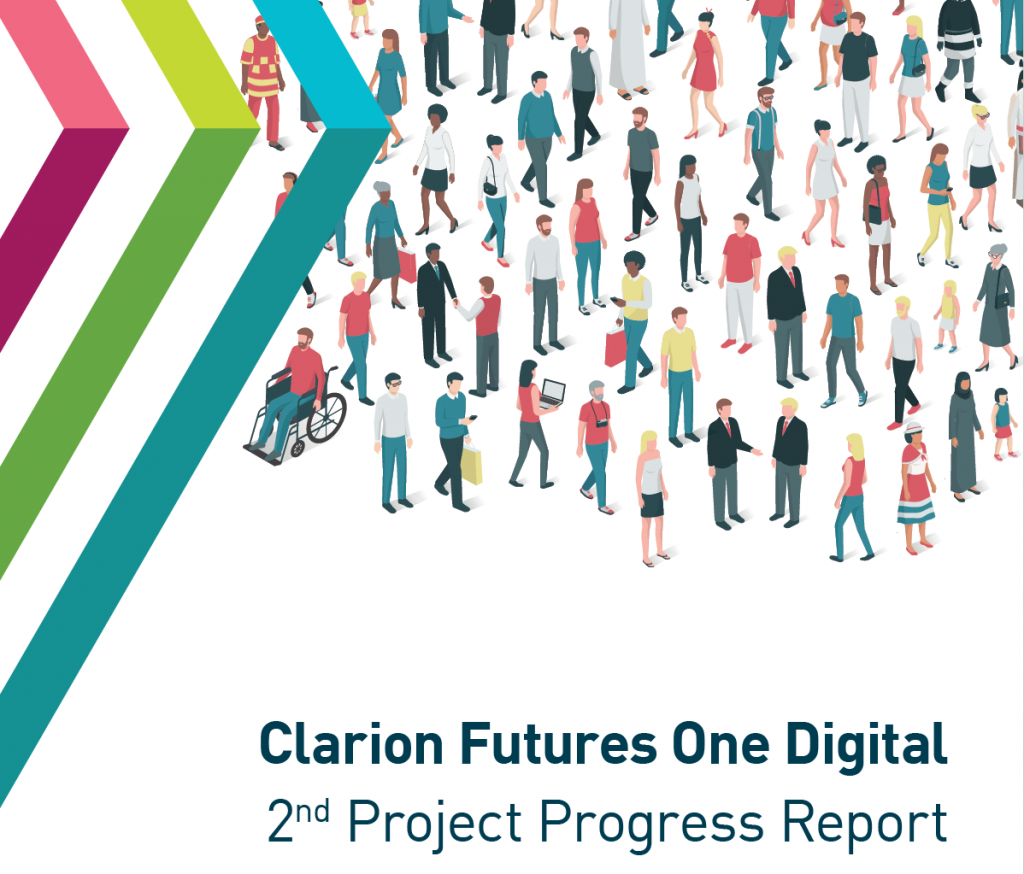 ---
This third progress report was published in December 2019 and includes spotlight sections on four specific partners' projects ENABLE Works Scotland, First Choice Homes Oldham, Phoenix Community Housing and YES Manchester, which show:
Best practices when supporting people with learning difficulties
The importance of patience and persistence for delivering digital skills employment support work
Building a successful partnership with Job Centre Plus
The benefits of a digital Delivery Coordinator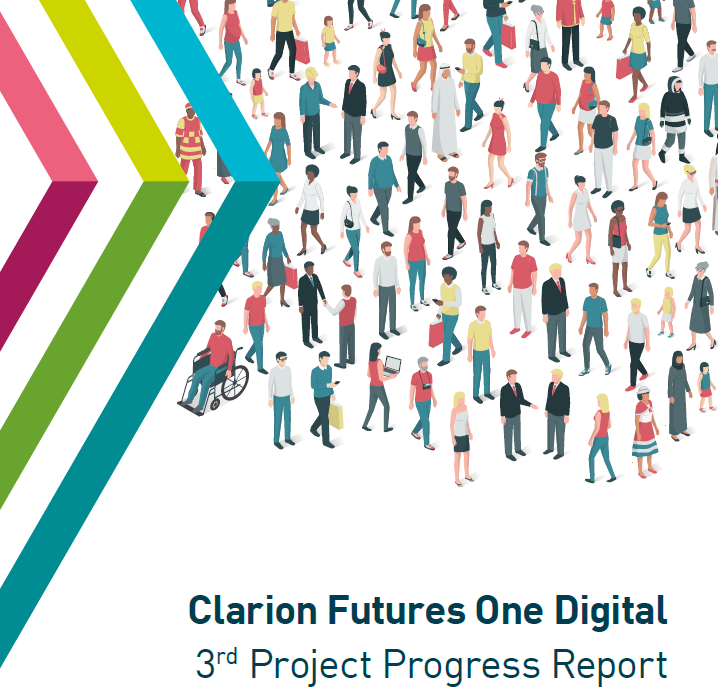 ---
Year 1 – Highlights (June 2017- May 2018)
Clarion Futures tested the roll out of their Digital Champion model across two Clarion Futures sites and developed a platform for assessing clients' essential digital skills needs and to explore and support clients in relation to such need. 66% clients who received basic digital skills screening as part of employment support went on to be referred to a Digital Champion.
Year 1 project delivery provided vital learning opportunity for Clarion Futures. In addition to trialling and testing their plans for Digital Champion delivery roll-out within internal jobs and training sites, they also developed critical new partnerships as part of their seed funding offer. Crucially, this funding enabled Clarion Futures and others to learn and develop their knowledge in the digital-employment field. They recruited eight replicating partners, who were keen to share and develop knowledge. Partners were committed to collectively build knowledge further by using the screening tool developed, as well as sharing their experiences of delivery by sessions facilitated by Clarion Futures. 
Year 2 – Highlights (June 2017- May 2018)
Clarion Futures awarded grant funding to their full target number of replication partner organisations and were also fully operational with their screening tool, which helped the organisation and its partners to identify essential digital skill needs in order to better inform Digital Champion interventions. At the end of Year 2, several replication partners met or surpassed their overall project KPI targets, with a view to continuing this model of digital inclusion work. 
Year 3 – Highlights (June 2019 – May 2020)
A key priority for Clarion Futures was to embed One Digital's most effective features into their core programmes. Their core digital inclusion programme delivers over 15,000 interventions per year, working with individuals from across all age groups and within a variety of settings. The One Digital's screening approach has been fully embedded into their core Digital Inclusion programme, both within Clarion Futures led delivery and delivery by grant recipient organisations. This is a clear success of the One Digital programme. The Clarion Futures grants programme will use One Digital's screening tool to identify digital needs and provide more targeted support. The quantitative data the tool generates will help them understand the people the programme is helping, and constantly improve provision so that it matches changing needs. Two notably interesting areas from Clarion Futures findings concern the number of people reporting a disability: 15% of people screened had reported a disability of some kind, which equates to roughly 1 in 7 people supported. This figure, coupled with the fact that self-reporting of disability is often underreported, is a reminder of the complex nature of Digital Champions' work. Organisations must ensure they are doing everything they can to support them. Citizens Online secured work to deliver an evaluation of the Clarion Futures One Digital Screening Tool data and provide an insights report. This work commenced in May 2020 and is due to complete in September 2020 – this is included in their continuing One Digital legacy work.
The Department for Culture Media and Sport (DCMS) and British Irish Council (BIC) provided a platform for specifically showcasing the Clarion Futures model of delivery. Notably the strength of partnerships with replicating partners and screening tool processes. The showcase received positive feedback. Most of partners have successfully embedded digital inclusion into their organisations' employment programmes and some of them have secured further funding to continue this important work. One Digital funding evidenced the key part digital skills screening and support plays in supporting transition into employment, with ongoing funding for embedded Digital Champion support secured by Clarion Futures as part of two European Social Fund grants.