Age UK evaluation reports
Age UK worked with nine local Age UKs to recruit and train specialist volunteer Digital Champions focused on the needs of older people. The Digital Champions were integrated into the local community.
Age UK initially worked with two local partners – Age UK Leicestershire & Rutland and Age UK Oxfordshire.
Phase One – November 2015 to December 2016
The report below was published in December 2016 and shares learning from Phase One.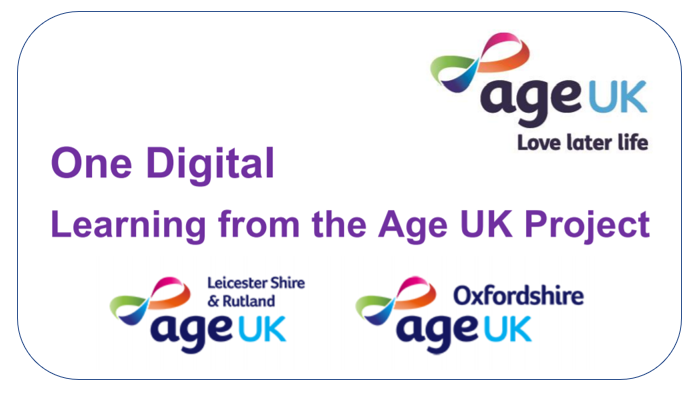 This Insights report was published in May 2016 and shares evaluation findings from Phase One.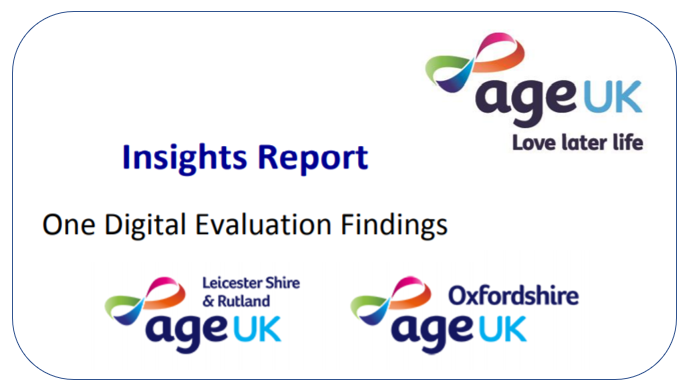 December 2016 to June 2017
This Phase Two report was published in July 2017 and shares learning from the second phase of the work, conducted from December 2016 to June 2017.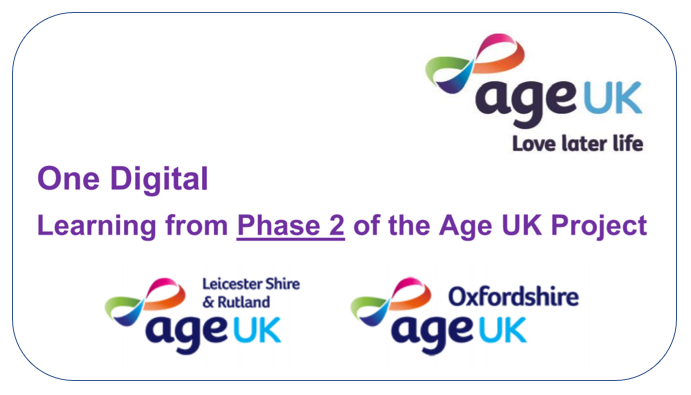 Phase 2 – June 2017 to May 2020
During the main phase of the One Digital programme, Age UK worked with a further seven local partners:
Age UK South Lakeland
Age UK Blackburn with Darwen, working with Age UK Lancashire
Age UK Herefordshire & Worcestershire, working with Age UK Gloucestershire
Age UK Leeds, working with Age UK Calderdale and Kirklees
Year 1 – Highlights (June 2017- May 2018)
Age UK focused on project set up including a robust internal competitive grant making process resulting in eight local Age UKs being selected to deliver the project. The selection process involved a mapping exercise which identified digital exclusion hotspots using Digital Heat Maps. This ensured the selected local Age UKs reached areas where older people are most at risk of digital exclusion. Age UK created tailored project resources to support local delivery, including a Digital Champion Welcome Pack and Organisation Information Pack. These resources were positively received by the local Age UKs and supported them to foster impactful relationships with local organisations and train Digital Champions. These relationships raised Age UK's profile in the community, highlighting them as the 'go to' service for older people wanting to go online.
Year 2 – Highlights (June 2017- May 2018)
Local Age UKs established long-standing relationships with local organisations in their community, including local GP surgeries, social housing providers, schools, and colleges, enabling them to either recruit Digital Champions or engage with older people who use the service.  "Virtual Learning Sets" were introduced in Year 2 and were delivered on a quarterly basis. They brought together local Age UK partners, as well as external organisations and speakers using video conferencing to discuss a topic of interest to the group. Local Age UKs benefited from the opportunity to share learning across the projects and explore new ways of working that they might not otherwise have come across. Age UK also introduced How To guides in Year 2, these short guides were made available to One Digital partners, as well as the wider Age UK network. The guides focused on different elements of delivering digital inclusion services, for example 'How To Set Up an Intergenerational Digital Inclusion Project', and 'How To Set Up Digital Inclusion Projects in GPs'. 
Year 3 – Highlights (June 2019 – May 2020)
Due to the staggered approach of local Age UK engagement, funding for two partnerships stopped during Year 3 (Age UK Blackburn with Darwen with Age UK Lancashire, and Age UK South Lakeland with Age UK Carlisle and Eden). Exit interviews were held with these local Age UKs to determine how the project had gone, and what their plans were for moving forward. It was clear from these interviews that the programme had been successful in their respective areas, and that due to the sustainability of the model, some delivery would continue beyond One Digital's funding being available. Digital Champions who engaged through the One Digital programme are keen to continue to support the delivery locally, however, this is limited due to the lack of funding to support a staff member to facilitate this. Therefore, both Age UK South Lakeland and Age UK Blackburn with Darwen were committed to seeking local continuation funding to develop their local projects further. Celebration events were held at both locations. These helped to celebrate the achievements of both Digital Champions and older people, as well as showcase the local projects to prospective funders. In addition, these local Age UKs continued to engage with Community of Practice events, sometimes delivering presentations and facilitating workshops.
Year 3 was the second year of delivery for Age UK Leeds working with Age UK Calderdale & Kirklees, and Age UK Herefordshire & Worcestershire working with Age UK Gloucestershire. They were able to develop their programmes further, taking learning from the previous two years, setting up new and continuing existing digital skills support services. Virtual learning sets continued with the remaining local Age UKs to ensure that learning was captured and shared.
In the final quarter, some resource was used by local Age UKs in their COVID-19 emergency response. However, as digital became increasingly important during this time, some digital inclusion support activity continued. For example, Age UK Leeds continued to deliver digital skills support over the telephone and over video conferencing tools such as Zoom. Age UK Herefordshire & Worcestershire also continued to deliver their tablet loan scheme.
Independent evaluation
This final independent report by Qa research is a qualitative evaluation exploring how effective the programme has been in engaging with digitally excluded older people and encouraging their continued learning.