Case study: Coffee Pot Computing
Coffee Pot Computing is a group of volunteers who offer support to Eastbourne residents aged 50+ to enable them to get to grips with modern technology and keep in touch with family and friends. Absolute beginners are our speciality, there are no formal lessons and no booking is required, we work at the learner's pace focusing on their priorities, whenever they come to see us. This could be anything from simply how to set up a new iPad, or how to create a Facebook account to booking a foreign holiday; Skyping a relative in Australia or coping with "forgotten" passwords. We've even helped to sort out how to control a "smart" sewing machine and welcome every challenge!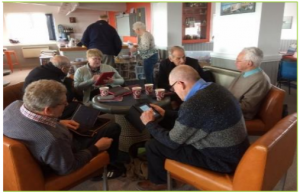 Over the years the entry level device has changed from desktop or laptop to tablet and smartphone. These devices are so much easier for older people to learn to use and much lighter to carry too.
We hold two morning sessions each week, at two separate venues. Our volunteers are also of "mature" years, and our learners value our relaxed, friendly and non-threatening environment, where a social chat over a cup of coffee can be as beneficial as any computer lesson! We are delighted that we have a good number of gentlemen in our groups.
Our volunteers are now signed up to the Digital Champions Network and using the courses and resources. We never know what we will be asked next so having access to such a wide range of teaching materials and support that is up-to-date has been invaluable for our team and the people they are helping.
---
One Digital is a UK wide partnership which promotes the use of Digital Champions to support people to learn digital skills. For organisations interested in setting up their own digital inclusion project we have developed a free Knowledge Hub of useful information and resources.