One Digital hosts "Digital Dialogue" with external partners
Clarion Futures 
is part of the national
One Digital programme
, which works with 4 external partners and funding from the
Big Lottery Fund
to help 40,000 people improve their digital skills. Clarion Futures is developing paid and volunteer Digital Champions to enhance the digital skills of residents and community members through its Jobs and Training work. Clarion Futures are also supporting 15 other organisations that are running employment programmes to replicate this approach.
Project Manager for Clarion Futures – One Digital, Tanya Spence, has been working with organisations to see whether they qualify for the programme's £20,000 grant. Whilst the grant is no doubt a huge draw, opportunities to work closely with a network of partners to collectively utilise and further develop a new approach to screening clients in relation to basic digital skills, as well as having a shared space to better understand the impact of digital as part of employment support, remains the biggest incentive for successful applicants.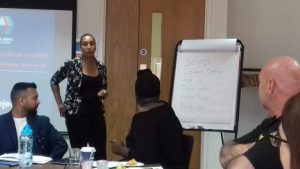 Tanya Spence of Clarion Futures' One Digital, explaining the background to the programme.
Representatives from all 10 (first funding round) replicating organisations, as well as other One Digital stakeholders, attended the first Digital Dialogue session. These sessions facilitate learning between partners; the first session aiming to explore and support with project setup.
Bryan Rossi-Anderson, the Delivery Coordinator for Clarion Futures – One Digital, shared his experiences as did Hexagon Housing Association. The experiences from both helped to frame discussion and prompted many questions. A number of key themes and messages also emerged throughout the day:
Digital Champions Matter
The clear message was that Digital Champions need to be supported and have a safe environment to work.  In addition to this the Champions' circumstances are important and will impact their attitude, availability and ability to engage with the project. Clarion Futures Digital Champion Suchita Noolee highlighted the need for Digital Champions (and host organisations alike) to understand the boundaries of championing work, including personal and cultural issues that may arise. Suchita also reminded others that for many Digital Champions this is a personal learning journey.
Clear communications and plan…plan…plan!
The screening tool helps Clarion Futures and replicating organisations to identify the basic digital skill needs of their clients and also provides a benchmark for Champions to explore this need further and begin providing support. Whilst the tool, which is in two parts, is quick, easy to use and able to generate a snapshot of where a person is with their digital skills – it remains crucial that staff within an organisation understand the reasons for screening, how this work may connect and support with their role as well as the difficulties that can arise in getting people to engage with digital support.
Meeting targets is a priority for any project, but having a logic model and clear journey mapped for both the learner and Digital Champion is central for good practice and can significantly support the ability to meet targets.
Understand local needs and provision
Kate Gallant, Learning Facilitator from the One Digital Community of Practice  discussed the positive benefits of shared learning and practice opportunities. Kate asked projects to highlight what was important to them at this stage of project development. One organisation flagged the need to be thinking about ESOL intervention as part of this support, whilst another stressed the importance of recruiting people who are themselves seeking employment. Both examples highlighting the need to build a local culture around digital and support local issues.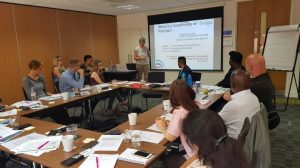 Kate Gallant discussing how the Community of Practice can help everyone's learning
The session was received positively by all and future sessions (shaped through reports, screening data and session feedback) will continue to provide an honest learning space for partners to explore One Digital work.
The second round of funding will take place in September and there are 5 more grants to award. If your organisation is running an employment programme and would like to learn more about this grant funding offer, or would like to learn more about the Digital Dialogue sessions please get in touch with Tanya at Tanya.spence@clarionhg.com
---
One Digital is a UK wide partnership which promotes the use of Digital Champions to support people to learn digital skills. For organisations interested in setting up their own digital inclusion project we have developed a free Knowledge Hub of useful information and resources.