Digital inclusion in the Lake District
Project visit to Age UK South Lakeland
On Thursday 13th September I was lucky enough to have the opportunity to visit the lovely team at Age UK South Lakeland based in Kendal. The day started off with a project meeting and an overview of the digital inclusion work the team are involved with across the South Lake District.
From IT drop-ins, Tablet Taster sessions and a Tablet Loan Scheme, to partnership work with Natwest, Barclays and local GP surgeries, the breadth of digital inclusion work covered by the team at South Lakeland is impressive.
Working in partnership with other organisations has proved particularly successful. The IT drop-ins for example are held mostly in local libraries, a mutually beneficial arrangement which provides a welcoming and accessible space for the sessions whilst also increasing knowledge and take-up of the libraries' e-book service. Meanwhile, the partnership work with local GP surgeries has encouraged use of the myGP app, which enables patients to book doctors' appointments and order prescriptions online.
Recently the team have hosted a genealogy session and an organise your photos session, both of which proved to be very popular and attracted a number of people with very limited digital skills – demonstrating that with the right 'hook' even those who lack confidence and experience with digital technology can be encouraged to learn more.
The project team rely on skilled and dedicated volunteers to deliver some of the training and support. June, the Project Coordinator, explained that volunteers who are part of the local community have the biggest impact. When encouraging people to take the leap, get online and become more confident with technology, having someone they know and trust to lead a session can make all the difference.
In the afternoon I, with colleagues Alex and Sarah from the Age UK head office in London, attended a Tablet Taster session. These sessions are designed to introduce tablets to those who are unfamiliar with the technology in a gentle way.
Our session saw Edward, Donald and Lynn get to grips with the Amazon Fire for the first time. Brilliantly delivered by the enthusiastic Digital Champion Suzanne with support from June, the class started with the basics, such as how to switch the tablet on and navigate the home screen and ended with us booking a flight to Malaga (well, almost!)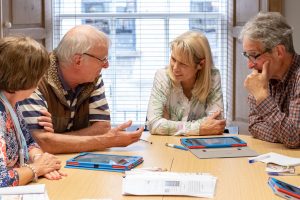 I was impressed with how carefully Suzanne talked the participants through using the tablet, and how well this enabled them to navigate without getting too lost or stuck. As a regular tablet user it is easy to forget how simple actions like the amount of pressure applied to the touch screen need to be learnt, that these things take time before becoming intuitive.
At the end of the session the mood was positive with all participants expressing an interest in learning more. Edward (who despite having no experience of using a tablet or indeed any computer before was a natural) and Donald were particularly enthusiastic and keen to sign up for the Tablet Loan Scheme.
For those who would like to develop their digital skills further following a taster session they are encouraged to attend the regular IT drop-ins, and the friendly Age UK South Lakes team make it clear that help and support is always only a phone call away.
---
One Digital is a UK wide partnership which promotes the use of Digital Champions to support people to learn digital skills. For organisations interested in setting up their own digital inclusion project we have developed a free Knowledge Hub of useful information and resources.