Epping Forest – developing a new digital inclusion network
One Digital partners recognise the value of working in partnership to reach out to more learners. It is a strong theme running through much of our work and, particularly for Citizens Online, it is essential to supporting digital inclusion in a local area.
How this works in practice I was able to see recently at a meeting of local partners in the Epping Forest area. It was great to see such enthusiasm for cooperation and the opportunities that it could bring as they discussed and planned together.
The Citizens Online Switch model encourages partners to recognise that digital transformation can be challenging, and that ensuring access for everyone to online services should be part of the process. The key message promoted is of the need to focus on developing the digital skills of the most excluded groups.
Working with Epping Forest District Council and local partners Citizens Online have prepared a report highlighting levels of digital exclusion in the area and making recommendations for priorities for partners to discuss and agree. Some key areas were highlighted as part of an introductory quiz, delivered using Mentimeter.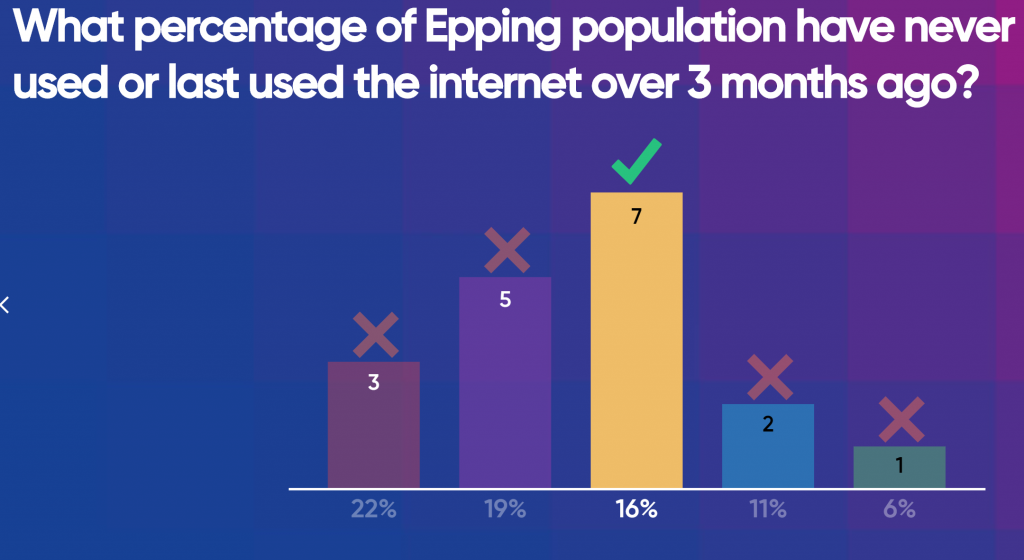 ---
The Council is already setting up a programme of Digital Buddies (the local name for Digital Champions) who will deliver support. A staff training session was planned and partners who completed a Citizens Online survey indicated that 75% of them would be willing to encourage their staff or volunteers to become Digital Buddies.
The session discussed the recommendations in the report and attendees were asked to prioritise. Top of the list was setting up a new digital inclusion network which was seen as key to making the project more sustainable. Also a priority was the launch of a dedicated page on Digital Unite's Digital Champions Network which would be available to local partners to train Digital Buddies. Publicising this training offer and encouraging people to make use of the resources available will be key to growing the impact in the Epping Forest priority areas.
Partners felt in the longer term that another area for development would be a signposting site (possibly hosted by the local council) that would advertise digital skills training opportunities available in the area. This would allow partners to signpost to each other's training offers, as well as being available to the general public.
Linking the two priorities, and already in evidence during the session, is to develop knowledge of each partners' digital skills training offer. Leonard Cheshire, for instance, made contact with other partners who were keen to have input from their dedicated support service for people with disabilities.
Challenges were identified – such as the time available for frontline staff to take on the Digital Buddy role, the capacity of smaller community groups to become involved, and the need for good quality volunteering. It was good to hear these recognised at this early stage of the project.
I am sure with continuing support from Citizens Online that the Epping Forest Digital Skills Network will grow quickly and start to delivery excellent digital skills support.